Back
Fences Eletrogradi
Beauty and Safety for several kinds of enclosing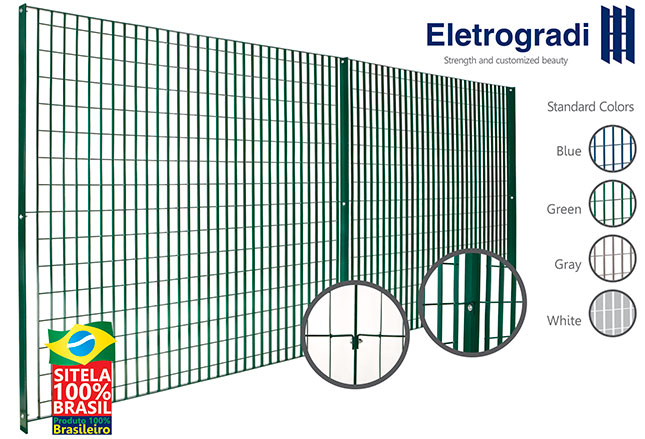 Fences Eletrogradi means the top of safety for enclosing commercial and residential areas. Much more than that, this product adds beauty to the environments due to its delightful and functional design. This way, it is a simple solutions to assembly and provides the agility so demanded by the sites.
Kinds of finishing - Natural steel, usually supplied when the material needs to be redone;
- Galvanized by fire, treatment with zinc by hot immersion, executed after the electrofusion process of the pieces;
- Galvanized by fire plus electrostatic painting by polyester powder, with several options of colors;
- With electrostatic painting over raw steel (indicates only for areas with low corrosion rate).
Advantages - Technical support for the installation;
- Development of special projects in partnership with architecture and engineering offices;
- Availability for painting in any color (by consultation);
- Product and raw material quality guarantee certificates; - Positions in modules that facilitate the transportation and installation.

Obs.: podem ser desenvolvidos outros tipos de montantes, tubular ou sob projeto.